Penguin Express Tour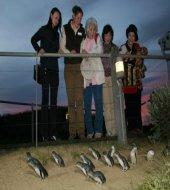 For those with limited time, this is our evening tour that will take you directly from Melbourne CBD to the Penguin Parade on Phillip Island. Witness their arrival at the Penguin Parade with premium viewing.
Join our Penguins Express evening tour and be taken directly to the Penguin Parade on Phillip Island. Watch the penguins' arrival on Summerland Beach with premium viewing that is guaranteed high traffic of penguins waddling right past you. Walk with them from elevated boardwalks and see if their burrow is nearby! At the Visitor's Information Centre, walk through the "Penguin Experience" exhibit and learn more about the life of these little flightless birds. Dinner is available (own expense) from the Penguin Parade Restaurant.
Highlights of this tour:
Views of Western Port Bay, it's mangroves and water birds
Take in panoramic views of French Island across the bay
Gateway to Phillip Island - San Remo
Phillip Island - home for one of the largest colonies of Little Penguins
Seated in the Penguin Parade with premium viewing enjoy the nightly spectacle of the Penguin Parade on Summerland Beach as the Little Penguins waddle ashore and on to their burrows (seat cushions and drink included)
Wander along the elevated boardwalks and view the penguins heading off to their burrows
Explore the Visitors Information Centre to learn more about the life of the Little Penguin as you walk through the "Penguin Experience"
A variety of light meals are available at the Penguin Parade restaurant (own expense)
Frequency:
Monday, Tuesday, Wednesday, Thursday, Friday, Saturday, Sunday (October to April)
Time:
Departs: 3pm (Apr 5 to Apr 30) & 4.30pm (Oct 4 to Apr 2)
Returns: 9.30pm - 11.30pm (dependant on season)
Fare Includes:
Entrance to Penguin Parade
Penguins Parade premium viewing
Seat cushion
Complimentary drink and free Wi-Fi on coach and at Penguin Parade
Please Note!
Please bring warm, waterproof clothing as nights can be cold on the island in any season.The Penguin Parade is a natural phenomenon taking place in the open outdoors.
Your ticket will be sent within 24 hours in a separate e-mail.

Tickets will be sent via e-mail!